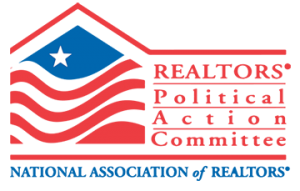 Since 1969, the REALTORS® Political Action Committee (RPAC) has promoted the election of pro-REALTOR® candidates across the United States. The purpose of RPAC is clear: REALTORS® raise and spend money to elect candidates who understand and support their interests. The money to accomplish this comes from voluntary contributions made by REALTORS®. These are not members' dues; this is money given freely by REALTORS® in recognition of how important campaign fundraising is to the political process. RPAC doesn't buy votes. RPAC enables REALTORS® to support candidates that support the issues that are important to their profession and livelihood.
OUR 2017 Association Goal is to raise $10,000!
Ways you can contribute:
Pay into RPAC when you pay your dues
Participate in our 2017 2nd Annual RPAC Cornhole Tournament & BBQ
Participate in the yearly sweepstakes contest
---
Contributions are not deductible for income tax purposes. Contributions to RPAC are voluntary and are used for political purposes. The amount suggested is merely a guideline and you may contribute more or less than the suggested amount. You may refuse to contribute without reprisal and the National Association of REALTORS® or any of its state associations or local boards will not favor or disfavor any member because of the amount contributed. 70% of each contribution is used by your state PAC to support state and local political candidates. Until your state PAC reaches its RPAC goal 30% is sent to National RPAC to support federal candidates and is charged against your limits under 2 U.S.C. 441a; after the state PAC reaches its RPAC goal it may elect to retain your entire contribution for use in supporting state and local candidates.